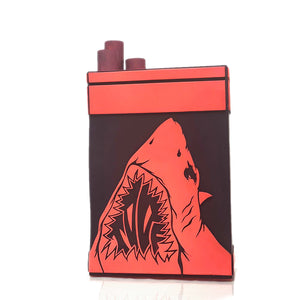 Sharktoof- Cigarette Pack
SHARKTOOF x TOYQUBE - Cigarette Pack
Artist: SHARKTOOF
Series: Signature Series
Material: Resin 

Sculpture height: approximately 12" tall, four sided sculpt
Packaging dimension: 13.5" x 10.75" x 5.5", gift box with diecut form
Limited edition: 100pcs
Each one is hand painted which makes each one is unique, the gradients may look different inside SHARKTOOF's logo.

Backstory:
Why SHARKTOOF choose Cigarette box? How did he come up with the concept?

SHARKTOOF:
I had been obsessing about guilty pleasures and how essentially we are supposed to feel shame for those pleasures. Graphically how can I make other people reflection this issue?  The silhouette of a cigarette pack opened is unmistakable. The cigarette itself is a loaded object; controversy, rebellion, big business, toughness. I wanted to publicly challenge people to address their own guilty pleasures.
From my 2007 original icon street champagne cache "Guilty Pleasures"Incredible craftsmanship to see the hundreds of wheat pastes and prints I have put up all over the world take on a three dimensional sculpture!