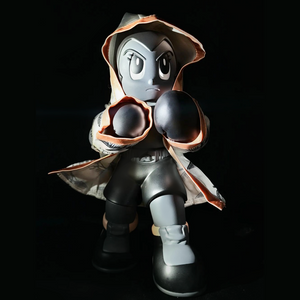 Dr.Woo Astro Boy Boxer
Top-flight tattoo artist Dr. Woo brings his precise aesthetic to Osamu Tezuka's mighty atom with a special collaborative Astro Boy Boxer artist edition 10″ vinyl art toy with ToyQube.
Fighting out of the Hideaway Suite X, the black matte figure features a hype fabric robe with the skull logo and branding of Dr. Woo's apparel and lifestyle brand.
This release marks the first 10″ version of the Astro Boy Boxer figure following our OG 3″ mini and the recent larger 6″ versions.