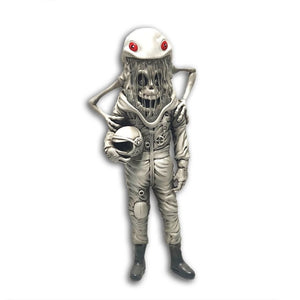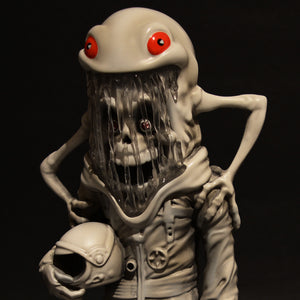 Alex Pardee - THE ASTRONAUT (Abominable edition)
THE ASTRONAUT HAS LANDED!!!!!!
We went to Mars with Alex Pardee and got involved in some parasitic experiments and then came home and made TOYS based on our nightmares!

"The Astronaut" is 10-inches tall and cast in extraterrestrial goo. We worked hard on bringing this alien to life, and we love him
From the Diary of Christina Farmer:
"November 19th, 2017. 
I was SO proud of Douglas. Well, I mean, I AM so proud of Douglas. I mean…I don't really know what I mean anymore. Despite the unintended burden I couldn't help feeling from having to raise Meredith practically on my own after the doctors discovered her tumors and amputated her feet, Douglas was Living his dream. Not many of us can genuinely say that. But he was doing it. He was ACTUALLY becoming an astronaut. 2 years of classroom work. 3 years of tests. 10-months of survival training. And 21 years of telling me that someday he will blow me a kiss from 220,000 miles above our house. All for a 30-second spacewalk that…well…that might have….no. It's fine. Douglas is fine. He's just a little jaundiced from the trip and I'm just in disbelief that he's home safe. I better go make dinner for them.