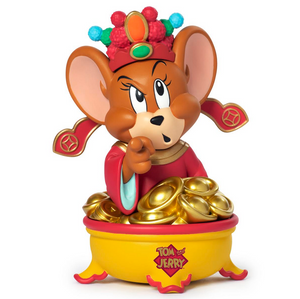 Tom and Jerry - God of Wealth
Cunning Tom puts on a red traditional Chinese suit to become a little god of wealth who is ready to celebrate the long-awaited Lunar New Year with us. The god of wealth is a god who believed to be in charge of money and wealth in Southeast Asia. Jerry's costume is designed according to the god of wealth while the gold ingot in front of Jerry is contained by an auspicious red and yellow basin. Jerry is lifting his eyes, raising an eyebrow, and pointing at you seems implying prosperity and good luck will be brought to you for the upcoming year.                   
                                                                                           

Dimension is approximately 13cm tall, PVC Vinyl and Mixed Medium

SHIPPING NOW!