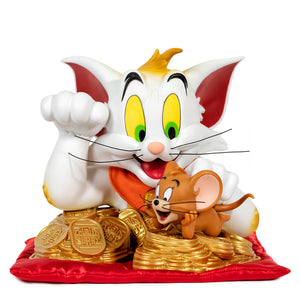 Tom and Jerry Bust - Maneki-Neko Ver. "The Lucky Cat"
To celebrate the 80th Anniversary of Tom and Jerry, ToyQube is happy to offer this run of traditional good luck variants! Each sculpt in this series will be limited and highly collectible!
The Japanese Maneki Neko cat is traditionally used to bring luck and good fortune to all! Now Tom and Jerry will bring all this good fortune to you with this limited edition Lucky Cat collectible bust.
Officially licensed by WB, this amazing collectible comes with a golden bell, and a red satin cushion and sees Tom and Jerry getting along for once among a pile of golden coins.
Dimension is approximately 9"x 9", Vinyl and Mixed Medium