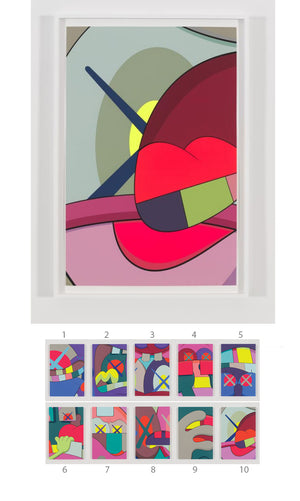 KAWS "UPS AND DOWNS" Print #10
KAWS "UPS AND DOWNS" Print #10 | Unframed The portfolio commemorates the opening of KAWS's exhibition UPS AND DOWNS, on view at the Nerman Museum of Contemporary Art, Overland Park, Kansas, through February 9, 2014. Shipping & Handling: - If you like it to be framed, please contact us for more info - This unframed print will be shipped flat on a hard cardboard, inside a corrugated double-ply shipping box. - Please allow 3-4 business days for us to pack and ship, this item is not eligible for free shipping. - This item DOES NOT SHIP OUTSIDE OF THE US, for international customers please contact us by email.
Print details:
KAWS UPS AND DOWNS 2013 Silk screen print on Saunders Waterford 410gm High White paper
Dimensions:
Each image/sheet: 35 x 23 inches/88.9 x 58.4 cm.
Edition:
Edition of 100 + 20APs Signed and numbered "KAWS.. 13" on each of the ten prints